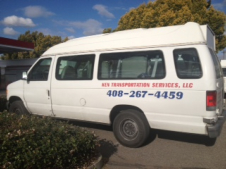 Ken Transportation will provide you with a reliable transportation where you can travel safely from one location to the other depending on your need or request. We also cater to patients who are unstable and cannot travel in a conventional way because of their medical condition/s and will need to use medical equipment that are otherwise not present in ordinary vehicles.
We offer the following services:
On Time and Safe Transportation
Professionally Trained and Experience Drivers
Vehicles Fully Equipped with Wheelchair Lift and Safety Accessories
Skilled Staffs to Assist Clients with Transportation Needs
Daily Vehicle Inspections and Maintenance Plan
Diverse Staff (Spanish, Filipino, Vietnamese, Chinese etc.)
Wheelchair and Ambulatory Transportation
We Provide Transportation To Destinations Like:
Dialysis Centers
Doctor's Appointments
Dental Appointments
Non Emergency Hospital visits
Chemotherapy Facilities
Wound Clinics
Physical Therapy/Rehabilitation Facilities
Travel Home After Hospital Discharge
Types of Insurance Accepted:
Medi-Cal (must be eligible for transportation)
Health Insurances with Transportation Coverage (Blue Cross/Blue Shield, SCHP, Alliance, SMHP, Health Plan of Santa Clara County etc.)
Private Clients
If you would like to see our transportation vehicles and avail of our services, please Set an Appointment We will be happy to show you around. You can also fill our online Reservation Form.